African Mobilities, curated by Dr Mpho Matsipa, is a collaboration between the Architekturmuseum der TU München in the Pinakothek der Moderne and the University of the Witwatersrand (South Africa). The initiative is supported by the German Federal Cultural Foundation. The project was produced with the support of the Goethe Institute, which will also be involved in the upcoming tour of the exhibition on the African continent.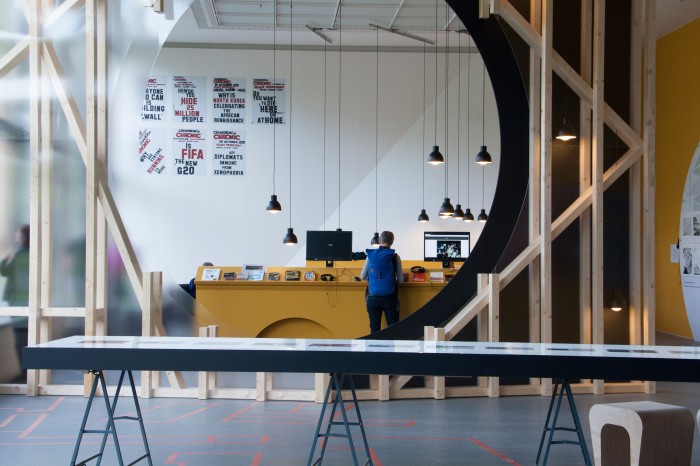 The design is a playful distortion of a very rational gallery space – the three halls of the Pinakotek de Moderne in Munich. The design evolved out of an intense process of model-making, that played with the intersections of circles, folds, gradations of light, colour and geometry. The result was a constellation of sculptural moments throughout the exhibition.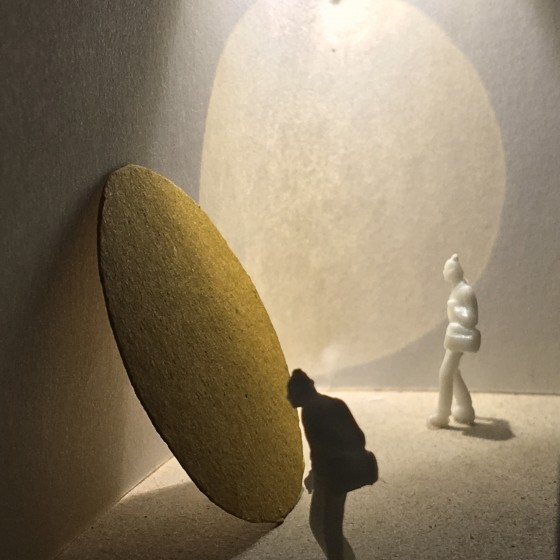 One concern that motivated the overall design was to radically delay the visitor experience of the exhibition. For this reason Wolff provided furniture, soft seating and a reading space looking out into a garden.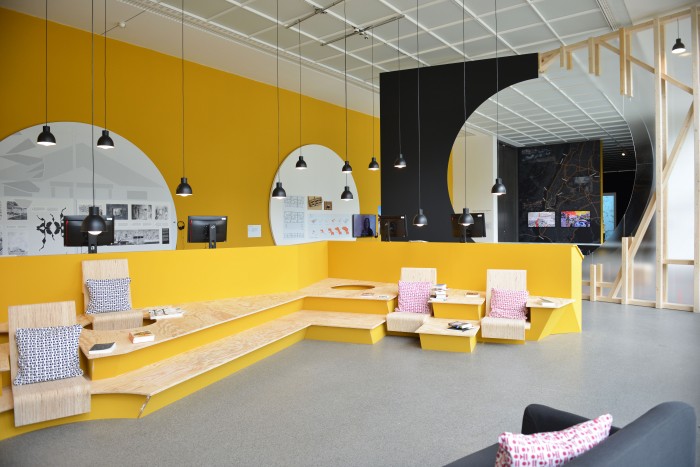 Photograph by Laura Trumpp
The first room is an immersive environment that disrupts the visitor's visual senses by cutting out natural light and painting the room black. In one area, Mad Horse City (2018) – the virtual reality work of Olalekan Jeyifous and Olawale Lawal is juxtaposed with Sammy Baloji's Essay on Urban Planning (2013) as anchors for the three themes of cartographies of migration and extraction, prototypes and future imaginaries (dystopia/utopias). These works are located in a gently lit, curved space that is draped in black muslin. Comfortable seating and soft carpeting are introduced in order to provide a sensual experience of both virtual and real experience.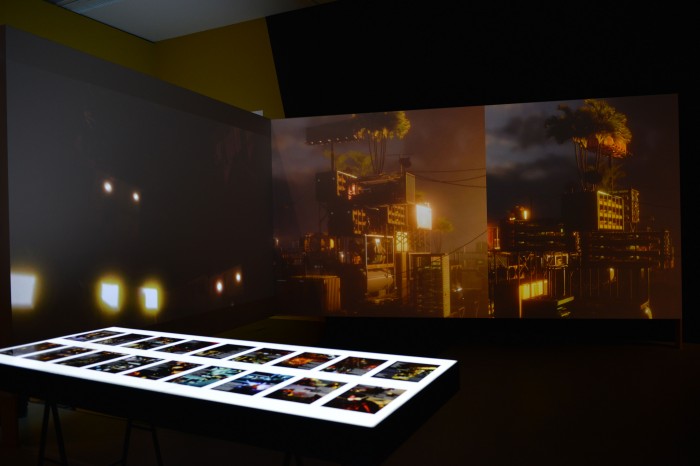 Photograph by Laura Trumpp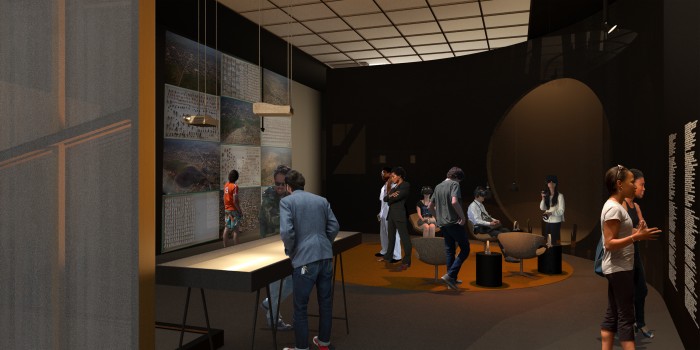 The second room is anchored by the Chimurenga Library. This light-filled space forms the social heart of the exhibition with views out to the garden, where visitors are encouraged to engage with the alternative approaches to knowledge production, building technologies and urban infrastructures. The circular geometries, folded planes and layers of light and colour gives depth to the space.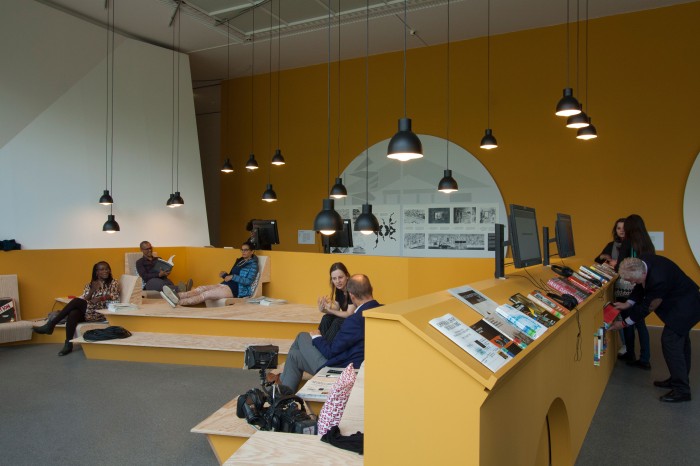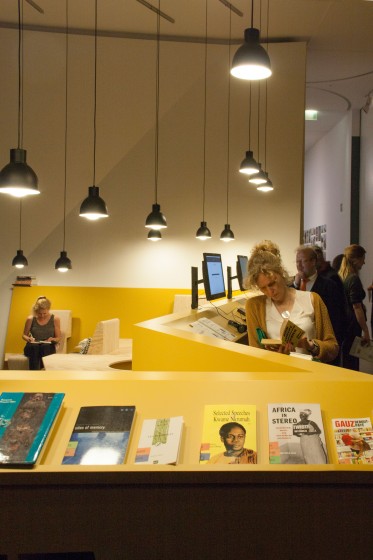 In the final room, Merkato, by Emanuel Admassu, a specially commissioned tapestry that maps trade patterns in the main market in Addis Ababa, is mounted against one of the two freestanding pavilions in the space. The work of Doreen Adengo is presented in the same pavilion, the design of which references the kitenge shops in Kampala and the mobility of Congolese traders and their wares in that region. The second pavilion in the room is designed to foreground the sound, text and graphic collaborative piece, Carthographic Entanglements, by Dana Whabira, Nolan Oswald Dennis and Thembinkosi Goniwe. The pavilion creates space for listening and echoes the seating configuration of trains, since the key focus of the piece is to map the entanglement between railway infrastructure, music and urban development.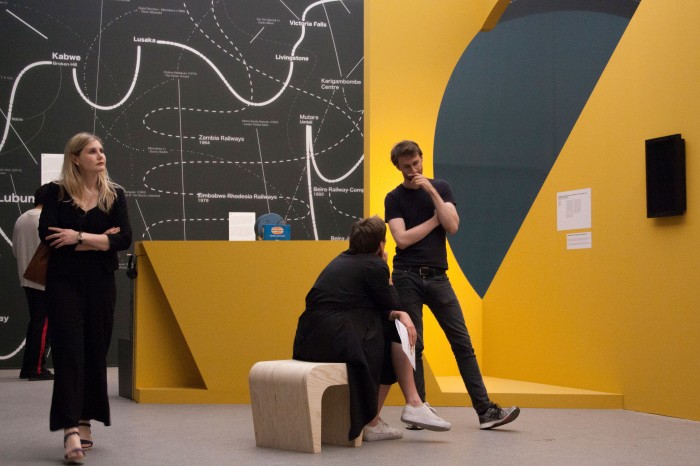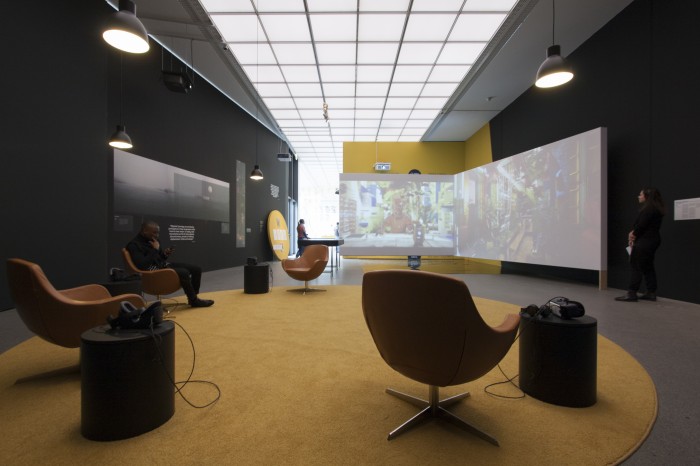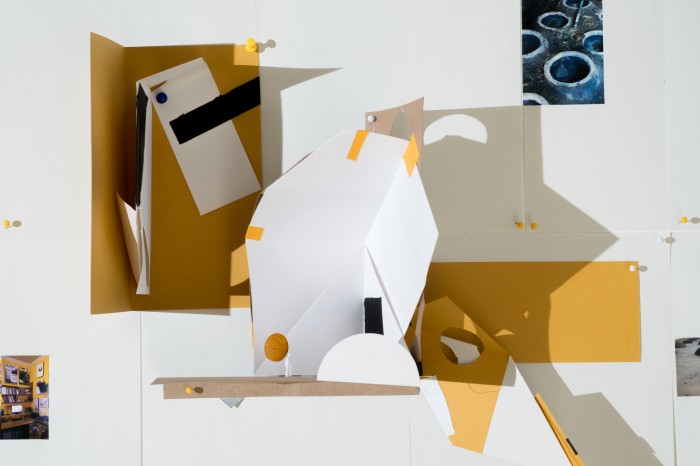 Photograph by Lindsey Appolis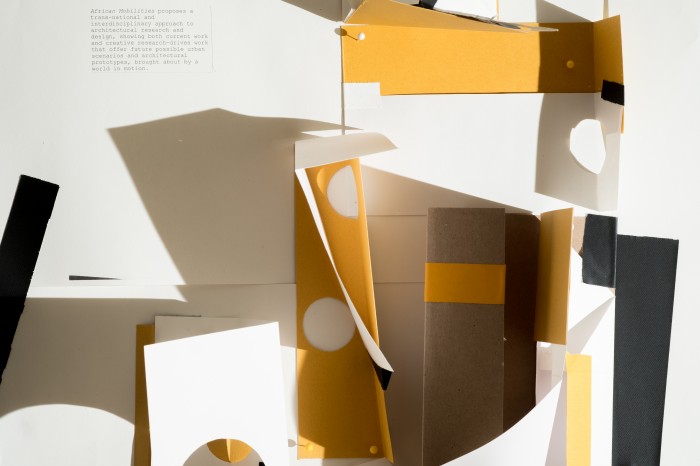 Photograph by Lindsey Appolis

Photograph by Lindsey Appolis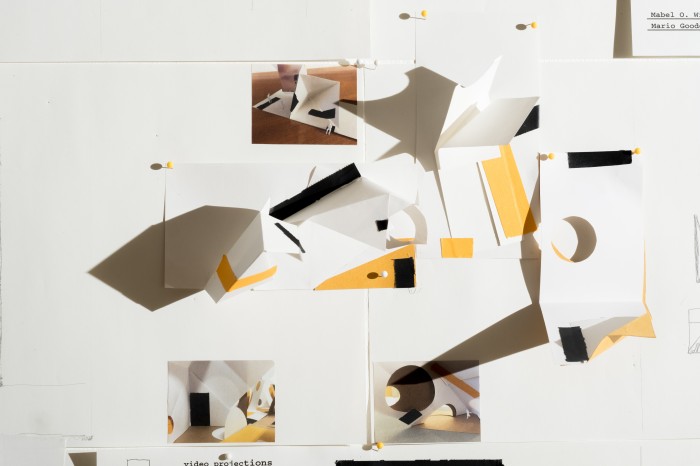 Photograph by Lindsey Appolis