The hall rises to a tall corner which is exaggerated by vertical fluting and has a characteristic window.
The Inkwenkwezi Secondary School was commissioned by the Western Cape. The school is on the periphery of the settlement next to a very big sport fields and on a dead end street. The Road to the North of the site is such a busy vehicular route that it makes pedestrian access from it undesirable for fear of children's safety. Access is from the quiet dead end road which allows children to linger safely.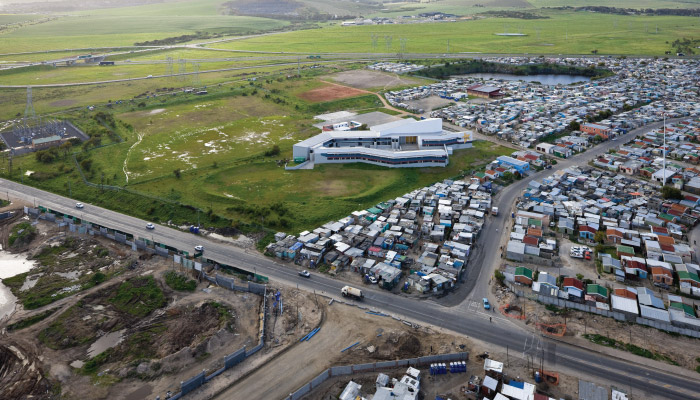 The school protects itself from theft and vandalism by creating an outer "wall" with all play spaces and access points beyond the safety of the entrance gates. The outer "wall" of classrooms encloses an undulating court with an open end facing Table Mountain.
The location of the building on a sloping site, on the edge of the settlement, was exploited to develop a civic architecture that distinguishes itself from the residential fabric around it by its scale and sculptural form. The hall rises to a tall corner which is exaggerated by vertical fluting and has a characteristic window. The same motive is repeated in the library. The entrance façade is layered with the hall and the library/administration block forming syncopated profiles in a composite façade. The entrance to the school is along a ramp, through this façade.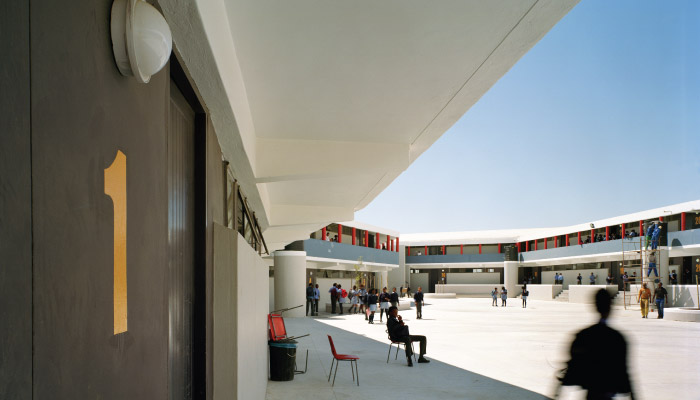 From the township another layering is read: the Junior Classrooms are lowered by a meter to make this block read against the block behind it and the hall at the back. This layered wall architecture with its undulating profiles form a recognisable image for the school. The name of the school (meaning morning star) is painted on this façade.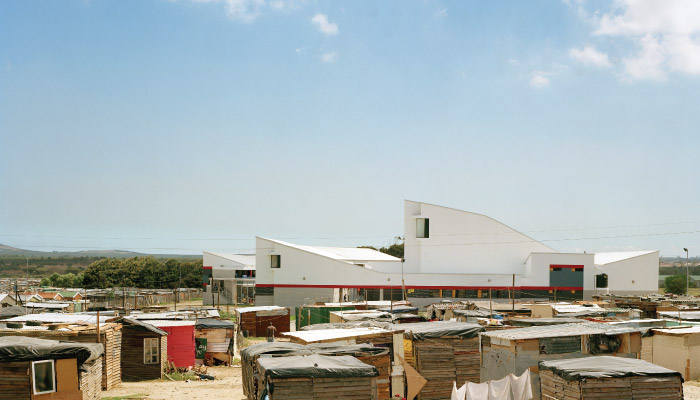 Since the school brief is largely made up of repetitive classroom modules, the wall architecture is a devise to bind these modules together and set the stage for the large scale undulations in plan which breaks the monotony of the block forms and the corridors.
The windows on the long horizontal facades were bound together by a decorative device that draws inspiration from the way people paint on public buildings, be it lines or signage, which over time re-articulates or de-articulates the architecture. The decorative pattern which also draws on African weave work has its constructional logic in the need for expansion joints between concrete beams and block work and between various panels of block work.